Save Farty

A trivia game. As tasteless as the name implies.
Farty is a chicken with some serious problems. He's flatulent, but that's just the start of it. Through a combination of bad advice and poor luck, he's got himself mixed up with some pretty bad people — and now his life depends on you.

---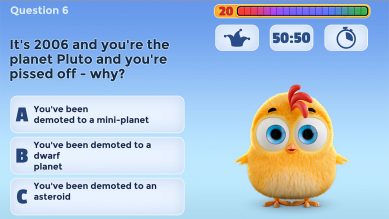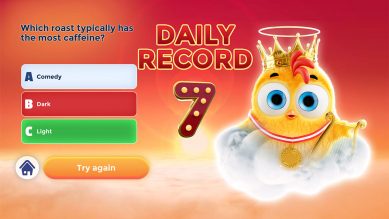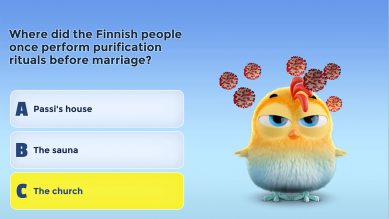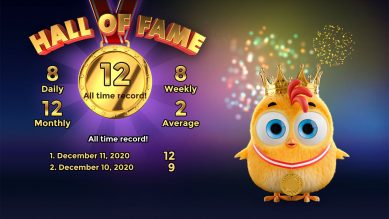 ---
Answer a series of absurd and ridiculous trivia questions, and Farty is given a stay of execution. Get one wrong, and Farty will meet his end in a variety of deranged and unusual ways. The animations are bursting with unnecessary violence and are not suitable for younger users. Or anyone with a modicum of decency.
"Save Farty" represents a real low point in worldwide trivia games. Self-improvement and the advancement of knowledge have given way to idiocy and unbridled masochism. This is perhaps the sickest game that can be enjoyed alone or with friends since Russian Roulette.
Answer one of over 4000 (mostly easy) multiple-choice questions or Farty is butchered in one of 50 brutal ways. Puerile unlockable animations and crude sounds and music lower the tone as players progress. Stay in the game — and keep Farty alive — by wisely using your three lifelines: A joker answers the question, 50:50s remove one answer, while extra time give you, well, extra time.
---
Critic Reviews:
You haven't played anything quite like this… – Read the full review on Nintendo Life.
---
Support
FAQ: Most common questions
What are your most important questions?
Please contact customer service – we will update the FAQs for you soon.
---